HOME >
제품소개
>
Microwave Reaction Instrument
---
Microwave Reaction Instrument
늘 고객님의 파트너로서 최고의 품질을 제공하고자 노력하겠습니다.
---
MWave-5000-Microwave Chemistry Reaction Workstation
Performance Feature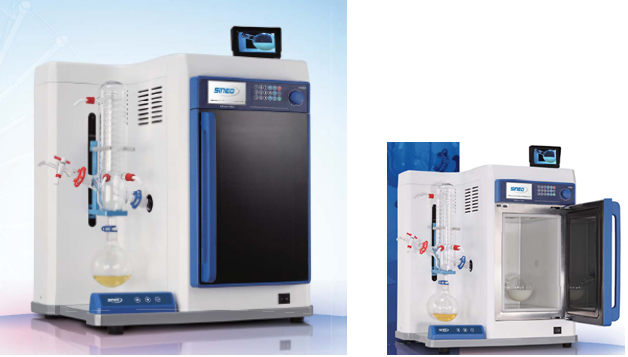 MWave-500 multifunctional microwave chemistry workstation, integrating microwave synthesis, distillation, concentration, pressurized or decompressive reaction and low temperature microwave reaction together, is a multipurpose workstation for microwave chemistry researches.
This product inherits technologies of former MAS microwave synthesis system and combines advanced microwave chemistry tools developed.
MWave-5000 has study and durable mechanical structure and intelligent integrated system for data monitoring and software control.
It is capable of working with external vacuum pump, low-temperature circulation cooling system and other commonly-used auxiliary equipment for chemical reactants.
It is a fully functional, convenient and modern chemical experimental instrument.
Technical specification
기술사양
Specification/Model
MWave-5000
Max. microwave power
1500W/2450±50Hz frequency
Microwave Chamber
32L Stainless steel with PP protecting lining
Auto non-pulse continuous power regulation range
25 to 1000 W
Pressure control system
Piezoelectric crystal sensing system/0~5Mpa
Temperature control system
Pt resistance temp. sensing system/0 ~ 250℃
Infrared temp. sensing system/0~300℃
Vessel pressure monitoring system
Closed chemical vessel
Pressure range 0~5MPa
Working pressure range 0~2MPa
Dimension(WxDxH)
500 x480 x 600mm
Glass flask
50ml, 100ml, 250ml, 500ml
Vacuum range
0~ -0.01MPa
Closed reaction vessel frame
High tensile alloy material
Reaction vessel
300ml, 500ml, 1000ml
Max. sustainable pressure
15MPa
Max. working pressure
2MPa
Pressurized Reaction vessels

UWave-1000 Microwave*Ultraviolet*Ultrasonic Synthesis / Extraction Reactor
Performance Feature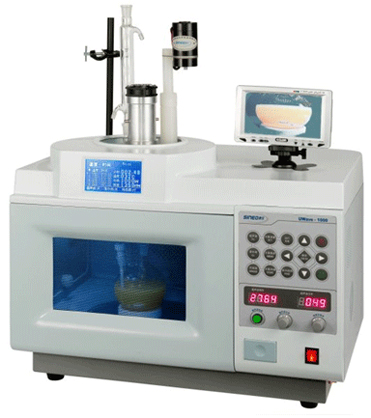 Technical specification
기술사양

| Specification/Model | UWave-1000 |
| --- | --- |
| Automatic variation range of microwave power | 0 to 1,000 W |
| Ultrasonic working frequency | 26 to 28 KHz |
| power regulation range | 0 to 800 W |
| Ultraviolet irradiation light source wavelength | 365nm |
| power | 300 W |
| Temperature control range | room temperature to 300℃ |
| Reaction container volume | 50 to 1,000 ml (10ml and 20ml/optional.) |
| Reaction container material | Quartz glass |
| Operating time | 1 s to 6,000 min |
In temperature control mode, microwave power realizes automatic variable frequency control with the change of preset temperature and time, heating rate can be accurately fed back and adjusted, and non-impulse continuous microwave heating mode is adopted
Immersed ultrasonic working probe has continuously adjustable ultrasonic power and self-check and alarm function
It's convenient to randomly combine or separately use microwave, ultrasonic wave and ultraviolet irradiation via an individualized system work platform
Mechanical mixing and magnetic mixing are adopted
The product is equipped with condensation, reflux, fluid replacement, inert gas protection interfaces, etc
Computer connection software
TFT color liquid crystal display of instant camera system

MAS-Ⅱ Microwave Synthesis Extraction Workstation
Performance Feature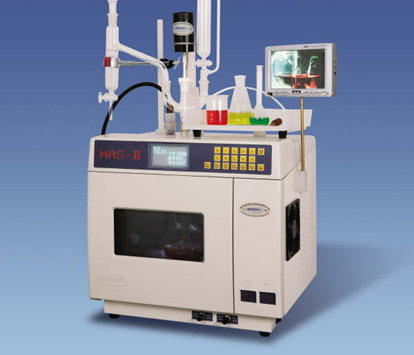 Two channel temperature monitor system is designed for large scale reaction states such as liquid, solid and liquid-solid mixture
Advanced microwave power auto-adjust function based on reaction temperature
Mechanical and Magnetic stirring devices are transferable
TFT color LCD screen is monitoring the whole process of reaction
The intake of inert gases has been equipped
Technical specification
기술사양
Specification/Model
MAS-II
Automatic variation range of microwave power
0 to 1,000 W
Maximum power control
10 ranges (increment 100W)
Dual channel temperature monitor
250℃
Temperature precision
1℃
Mechanical and Magnetic stirring devices
Adjustable
Standard interface reaction container
cubage from 20ml to 1000ml
Reaction container material
Glass(Pirex)
Assembled devices
Condensation
Circumfluence devices
Mechanical and Magnetic stirring devices Intake of inert gases
Dual screen display
Reaction data and accumulating temperature curve
Preset reaction methods
Up to 30
---
고객을 위한 새로운 첨단기술의 만남!
간편한 전화상담 요청
전화번호 입력 후 확인 버튼을 누르시면 관리자가 확인하는대로 빠른시일안에 연락드릴 수 있도록 하겠습니다.